Episodes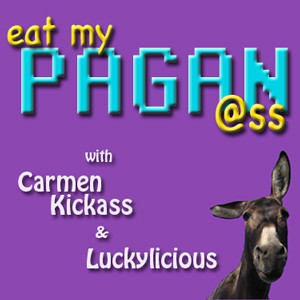 Wednesday Dec 15, 2010
Wednesday Dec 15, 2010
Lucky interviews pagan musical artist, tantric instructor, and best friend, Glitterpussy. Glitter shares her thoughts on living life to the fullest, self-acceptance and body image, musical influences, pagan festivals, American paganism, fundamentalism, marriage to the love her of life, vulture housewives in grocery store parking lots, abortion, pagan parenting, polyamory, tantra and breathwork, kitchen witchery, and more! Lots of Glitter's original music featured, including: Hooker with a Heart of Gold, Skinny, Swallow, Worst Case Scenario, as well as impromtu fireside covers of Aborchun (Jammin'), and With a Little Help from My Friends. Photos throughout of this fabulous and gorgeously magical woman.
I LOVE YOU, GLITTER! FOREVER!
Featured artist: Glitterpussy
EXTRA: check out the YouTube video of Glitter's pagan wedding at the Starwood pagan festival in summer 2009!
Recorded August 7, 2010 Aired: December 15, 2010
Email: eatmypaganass@gmail.com
Facebook: www.facebook.com/eatmypaganasspodcast
Twitter: www.twitter.com/eatmypaganass