Episodes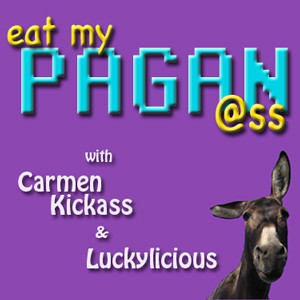 Monday Jun 05, 2006
Monday Jun 05, 2006
Freya Aswynn, a.k.a. The Wicked Witch of the North, author of Northern Mysteries and Magick: Runes, Gods, and Feminine Powers, discusses with Lucky how she found the runes, and how the runes have shaped her destiny as an occultist and as a leading voice for the feminine powers within the modern world of Asatru and Germanic heathenism.
Go to Freya Aswynn's Web site:
http://www.aswynn.co.uk
. Freya Aswynn's WikiPedia page:
http://en.wikipedia.org/wiki/Freya_Aswynn
And check out this KICKASS video from YouTube of Freya galdering the runes while the rune images she created play across the screen: DO YOU HAVE A QUESTION FOR FREYA?
Email us
and Freya might do a rune reading for you on the show! Episode 5 Song credits: "Songs of Yggdrasil" by Freya Aswynn
---
Email us at
eatmypaganass@gmail.com
to send us your comments, questions, hate mail, fan mail, whatevs! Go to our podcast blog to post a comment, share your thoughts, and divulge your deepest secrets in an unabashedly public forum:
http://eatmypaganass.podbean.com
Follow us on Twitter:
http://twitter.com/EatMyPaganAss
Be our fan on Facebook:
http://www.facebook.com/pages/Eat-My-Pagan-ss/172344217992
Join our Livejournal Community:
http://eatmypaganass.livejournal.com