Episodes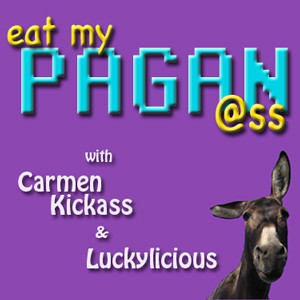 Tuesday Dec 21, 2010
Tuesday Dec 21, 2010
Blessed Yule, pagan ass eaters!! It's the winter solstice with a kick: total lunar eclipse! Whahoo! That means anything goes, and it DOES in this episode of Eat My Pagan Ass pagan podcast.  Lucky is a single gay pagan AGAIN (don't worry--he's okay with that) and Carmen has the hots for some guy and this time actually works up the nerve to talk to him. (It's progress, not perfection, right?)
We touch one last time (for now) on the passing of Lucky's dear friend, Glitterpussy, and the pagan implications of death and, apropos to the season, rebirth. Friends are among our most valued treasures, so treasure them! Chanukah schmooze 2010! We respond to some listener emails, which include tarot and rune readings, before heading out to Rockefeller Center to gaze upon the giant painted-up Yule tree and make fun of NYC tourists (keep coming back! we love you!) Lots of musical interludes in this episode, so enjoy!
Pssst: 'Tis the season to be generous. Please support Eat My Pagan Ass with a donation today. Donate via www.paypal.com to eatmypaganass@gmail.com. THANK YOU!
Featured music:
We Speak No Americano - Yolando Be Cool & DCap
I Feel Pretty - West Side Story original soundtrack recording
With a Little Help from My Friends - The Beatles
We Are a Circle - Luckylicious
Dreydl, Dreydl - Mark Eckardt, Jessica Rotter and The Dreydl Kids
Hava Nagila - London Festival Orchestra
Klezmer Waltz - Margot Leverette & the Klezmer Mountain Boys
Christmas Day in the Morning - Shira Kammen*
Carol of the Bells - Celtic Woman
Baby Elephant Walk - Al Caiola/Billy May
Spear Burn - Belief Systems*
Talk Box - Belief Systems*
Deep House - Belief Systems*
Electro Jive - Belief Systems*
Apple Tree Wassail - Shira Kammen*
The Holly Bears a Berry - Shira Kammen*
Here Comes the Sun - The Beatles
*Courtesy www.magnatune.com
Email us at eatmypaganass@gmail.com
Follow us on Twitter athttp://twitter.com/EatMyPaganAss
Friend us on Facebook:http://facebook.com/EatMyPaganAssPodcast
Recorded December 4, 2010 Aired December 21, 2010
Happy solstice, everybody!