Episodes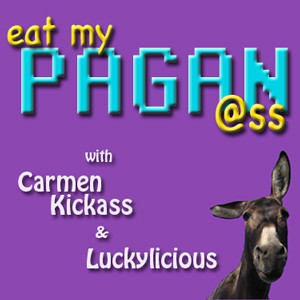 Sunday Oct 31, 2010
Sunday Oct 31, 2010
Carmen & Lucky welcome you to our 34th episode of Eat My Pagan Ass pagan podcast. This episode started off innocently enough -- responding to listener emails, talking about our days and our Samhain plans, and then POOF Grannylicious appears out of thin air and the shit hits the fan. The millennia-long feud between Carmen and Granny comes to a pivotal turning point, and worlds hang in the balance as these two ancient ladies level their wands at one another, and Lucky must use every last ounce of his political negotiation skills to keep them from pulling their hair triggers.
Featured artist: Mannheim Steamroller Special Guest: Grannylicious
Recorded October 26, 2010 Aired: October 31, 2010
Blessed Samhain!
Email: eatmypaganass@gmail.com Facebook: www.facebook.com/eatmypaganasspodcast Twitter: www.twitter.com/eatmypaganass