Episodes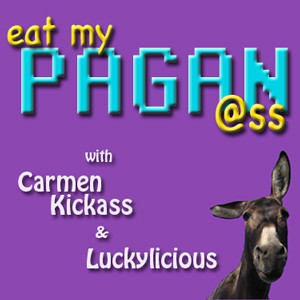 Thursday Nov 19, 2009
Thursday Nov 19, 2009
Season Two begins! Carmen Kickass and Luckylicious have found their way back to this world from their transdimensional wrong-turn. They describe their fantasmagorical experiences in alternate universes and try to adjust to being gone for 2-and-a-half years. 2012 apocalypse approaches! Or does it? Are we misinterpreting the Mayan calendar? News flash: the world is better today than when they left it. We've had a quantum shift to the light, kiddies! Let's CELEBRATE! Cheney is NOT president in THIS reality! Whahoo! It's the Sliders (think Syfy, not beef) episode of Eat My Pagan Ass, season two.
Carmen & Lucky in the Transdimensional Portal
New theme song music from "Love Dog" by Big Bad Sun (Chris Juergensen), available on Magnatune.com: http://magnatune.com/artists/albums/juergenson-badsun/
We're so glad to be back, beeeyotches!
Big Bad Sun
by Big Bad Sun (Chris Juergensen) on Magnatune.com
Big Bad Sun by Big Bad Sun