Episodes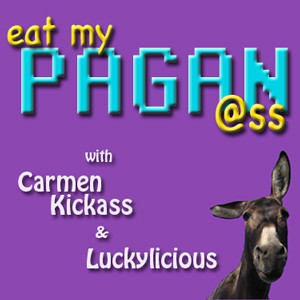 Tuesday Jan 12, 2010
Tuesday Jan 12, 2010
The Catholic lawmakers in Ireland have made blasphemy illegal. Well, Carmen and Lucky say, "blaspheme THIS, you Leprechaun-lovin', Guinness swiggin, wafer-eatin' embarrassments to your Celtic ancestors!" This episode is chock-full of offensive swill, sure enough to piss off any uptight religio-twats. Bring your sense of humor...otherwise, you're in for one HELL of a ride! Tarot and rune divination, a prosperity spell, listener email, and more in this episode. Featured pagan artist: Gaia Resurrect. Featured pagan podcast/blog: Inciting a Riot, with Fire Lyte. Feature pagan store: Magickal Realms & Pagan Center of New York.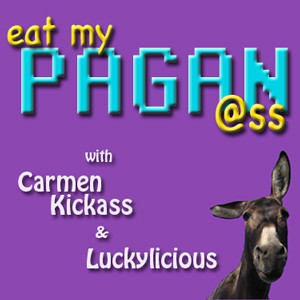 Wednesday Feb 07, 2007
Wednesday Feb 07, 2007
Carmen & Lucky get into the New Years Groove, low-carb eating out, manscaping & jalking, comatose catheter dongers, Carmen has a boyfriend!! Single women: ROAR! Pimp my altar, presidential picks for 2008, spread the love/pay it forward, and Pagan Judgementaljism -- all in this, episode #12 of Eat My Pagan Ass.
Email us
with your New Year's tales of mayhem and magic. What, if anything, do you intend to change about yourself in the coming year and why?
eatmypaganass@gmail.com
. Go to our
podcast blog
to post a comment, share your thoughts, and divulge your deepest secrets in an unabashedly public forum:
http://eatmypaganass.podbean.com
Follow us on
Twitter
:
http://twitter.com/EatMyPaganAss
Be our fan on
Facebook
:
http://www.facebook.com/pages/Eat-My-Pagan-ss/172344217992
Join our
Livejournal
Community:
http://eatmypaganass.livejournal.com