Episodes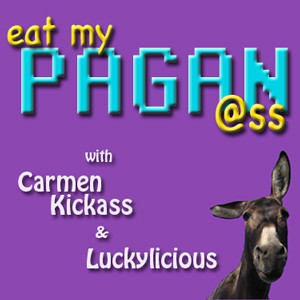 Tuesday Apr 20, 2010
Tuesday Apr 20, 2010
In this episode of Eat My Pagan Ass pagan podcast, Carmen Kickass lashes back at Grannylicious (aka Voldegranny), but short of starting a witch war proceeds with caution because she's truly scared of the evil that Granny can do (and has done), least of all the murder of Carmen's beloved parakeet Paco (R.I.P.)! Lucky doesn't want to get caught in the crossfire and changes the subject to more fun topics, like Sex and Beltane and Maypoles (ahem). But first -- the Vatican is at it again, deflecting responsibility for its sex abuse scandals by blaming homosexuality instead of its unnatural policy of priestly celibacy. Nice try, lump heads. Carmen and Lucky respond to TONS of listener emails about coming out of the broom closet, Project Pagan Enough, high priestesses who can't get over themselves, and more candle magic.
Featured Pagan Blog: Project Pagan Enough
Featured Musical Artist: Ocean Lab - Siren Song - I Am What I Am
Episode 29 recorded April 17, 2010, New York City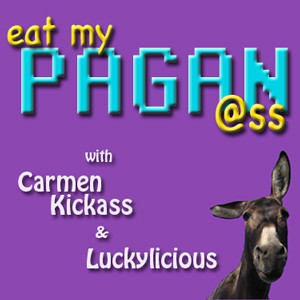 Wednesday Feb 07, 2007
Wednesday Feb 07, 2007
Carmen & Lucky get into the New Years Groove, low-carb eating out, manscaping & jalking, comatose catheter dongers, Carmen has a boyfriend!! Single women: ROAR! Pimp my altar, presidential picks for 2008, spread the love/pay it forward, and Pagan Judgementaljism -- all in this, episode #12 of Eat My Pagan Ass.
Email us
with your New Year's tales of mayhem and magic. What, if anything, do you intend to change about yourself in the coming year and why?
eatmypaganass@gmail.com
. Go to our
podcast blog
to post a comment, share your thoughts, and divulge your deepest secrets in an unabashedly public forum:
http://eatmypaganass.podbean.com
Follow us on
Twitter
:
http://twitter.com/EatMyPaganAss
Be our fan on
Facebook
:
http://www.facebook.com/pages/Eat-My-Pagan-ss/172344217992
Join our
Livejournal
Community:
http://eatmypaganass.livejournal.com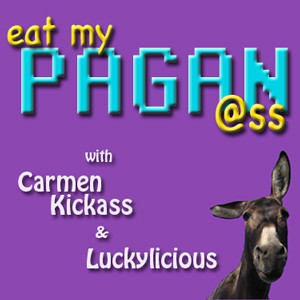 Thursday May 25, 2006
Thursday May 25, 2006
Carmen Kickass and Luckylicious bring you this fourth installment of virtual insanity and mayhem. Beltane dildo-ology (it's a real science!), Maypole dancing, baby naming, heathen land-taking ceremonies, and creepy haunted Manhattan buildings all discussed in this episode. Listener email is answered (for the most part), and Carmen takes a couple swipes at Lucky's jugular. This is a long one, but stick it out--you just might learn something.
Some useful links:
http://www.thetroth.org
http://www.vikinganswerlady.com
---
Email us at
eatmypaganass@gmail.com
with your ideas, feedback, gossip, blackmail letters, whatever. Love ya!
---
Email us at
eatmypaganass@gmail.com
to send us your comments, questions, hate mail, fan mail, whatevs! Go to our podcast blog to post a comment, share your thoughts, and divulge your deepest secrets in an unabashedly public forum:
http://eatmypaganass.podbean.com
Follow us on Twitter:
http://twitter.com/EatMyPaganAss
Be our fan on Facebook:
http://www.facebook.com/pages/Eat-My-Pagan-ss/172344217992
Join our Livejournal Community:
http://eatmypaganass.livejournal.com