Episodes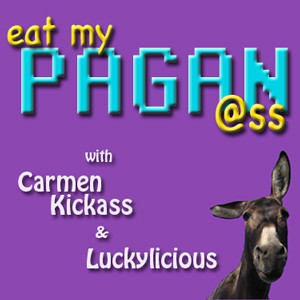 Saturday Feb 10, 2007
Saturday Feb 10, 2007
In this continuation from episode 12, Carmen & Lucky take on the meaning of happiness and the pitfalls that keep us from it. We discuss giving love, anal probes, DMT, the FDA, Retin-A, Tiajuana dreamin', Starwood Festival, and Carmen's E.coli. conspiracy! *If you're a fan of the movie "The Fourth Kind" then check out our conversation on DMT, and also read "DMT: The Spirit Molecule" by Rick Strassman.*
Email us
and tell us about your alien abduction experiences. Have you ever seen a little green man in a saucer? Strange lights in the sky? Dreams of abduction? And on another note, are you happy? How do you stay happy?
eatmypaganass@gmail.com
. Go to our
podcast blog
to post a comment, share your thoughts, and divulge your deepest secrets in an unabashedly public forum:
http://eatmypaganass.podbean.com
Follow us on
Twitter
:
http://twitter.com/EatMyPaganAss
Be our fan on
Facebook
:
http://www.facebook.com/pages/Eat-My-Pagan-ss/172344217992
Join our
Livejournal
Community:
http://eatmypaganass.livejournal.com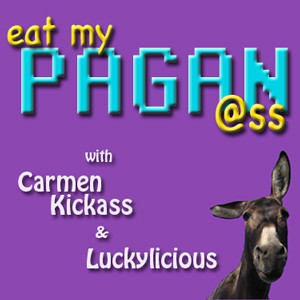 Wednesday Feb 07, 2007
Wednesday Feb 07, 2007
Carmen & Lucky get into the New Years Groove, low-carb eating out, manscaping & jalking, comatose catheter dongers, Carmen has a boyfriend!! Single women: ROAR! Pimp my altar, presidential picks for 2008, spread the love/pay it forward, and Pagan Judgementaljism -- all in this, episode #12 of Eat My Pagan Ass.
Email us
with your New Year's tales of mayhem and magic. What, if anything, do you intend to change about yourself in the coming year and why?
eatmypaganass@gmail.com
. Go to our
podcast blog
to post a comment, share your thoughts, and divulge your deepest secrets in an unabashedly public forum:
http://eatmypaganass.podbean.com
Follow us on
Twitter
:
http://twitter.com/EatMyPaganAss
Be our fan on
Facebook
:
http://www.facebook.com/pages/Eat-My-Pagan-ss/172344217992
Join our
Livejournal
Community:
http://eatmypaganass.livejournal.com