Episodes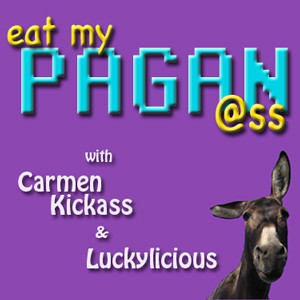 Wednesday Apr 04, 2007
Wednesday Apr 04, 2007
Lucky is sober and cranky and Carmen is laughing it up because it's her birthday party (and Lucky's jealous). Vaginal soundscapes (aka labial ululations), listener emails, the Tower Card (AGAIN with the Tower!), the lesser banishing ritual, the Book of Urantia, and fishcake abound! Featuring "Abyss" by Electric Skychurch.
Tower Card Two-fer
Pisces: the dreamer of the deep waters
Email us
with your techniques for banishing the blues. What songs lift your spirits? When your cranky, what do you do to turn that frown upside down? And when you throw a pagan party, what's your MUST PLAY song?
eatmypaganass@gmail.com
. Go to our
podcast blog
to post a comment, share your thoughts, and divulge your deepest secrets in an unabashedly public forum:
http://eatmypaganass.podbean.com
Follow us on
Twitter
:
http://twitter.com/EatMyPaganAss
Be our fan on
Facebook
:
http://www.facebook.com/pages/Eat-My-Pagan-ss/172344217992
Join our
Livejournal
Community:
http://eatmypaganass.livejournal.com