Episodes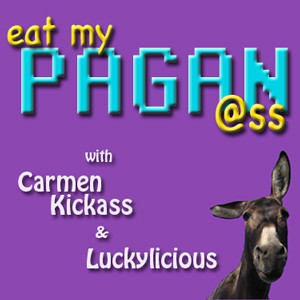 Saturday Jun 26, 2010
Saturday Jun 26, 2010
Carmen Kickass and Luckylicious are back from their siesta with another episode of the most famous pagan podcast on the planet -- Eat My Pagan Ass! In this episode, we remember the amazing talents of the widely imitated Miss Cleo of Psychic Friends Network fame (don't worry, she's still alive, thank the Goddess!), discuss the power of intuition and its ability to protect us from dangerous situations, swap some pretty grody recipes, spiral off on yet another tangent about Carmen's frickin' birds, and respond to a TON of awesome listener emails (you guys ROCK!).
Thanks to our latest donors to the 666 Club -- Kate and The Highway Hermit.  Also thanks to Brooke for sending us this awesome piece of artwork, which she calls "Holding Magick":
Happy Midsummer, bitches! Love, Carmen and Lucky...