Episodes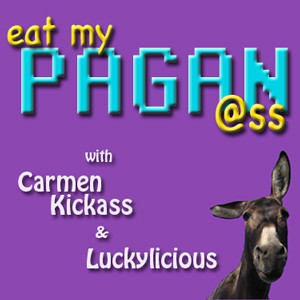 Saturday May 21, 2011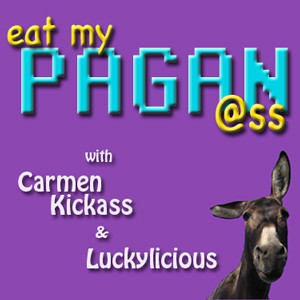 Tuesday Feb 09, 2010
Tuesday Feb 09, 2010
Carmen and Lucky invite a couple friends over for a coffee klatsch -- Delphi and The Superchungus riff with our cohosts about Secrets in paganism, NYC rituals, the Cult of Madonna, Death, dirty pagan asses, Radical Faerie Heart Circles, multiverses and time travel reverse Reiki healing, journeys to the Edge(s), weather magic, Haiti/Pat Robertson/Devil, and Luciferian witchcraft.  Eavesdrop on this roaming conversation with four NYC (well, three NYC and now one Hawaiian) witches.  Anything goes on this episode of Eat My Pagan Ass.
Join the Cult of Madonna!
Special Guests: Delphi and The Superchungus
Music credits: "Wondring Aloud" by Jethro Tull; "What's the Buzz" from Jesus Christ Superstar soundtrack; "Death on Two Legs" by Queen; "Jets" from West Side Story; "Sh'Boom (Life Could Be A Dream)" by The Crew Cuts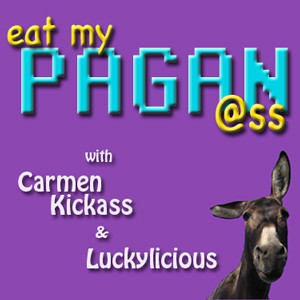 Thursday Nov 19, 2009
Thursday Nov 19, 2009
Season Two begins! Carmen Kickass and Luckylicious have found their way back to this world from their transdimensional wrong-turn. They describe their fantasmagorical experiences in alternate universes and try to adjust to being gone for 2-and-a-half years. 2012 apocalypse approaches! Or does it? Are we misinterpreting the Mayan calendar? News flash: the world is better today than when they left it. We've had a quantum shift to the light, kiddies! Let's CELEBRATE! Cheney is NOT president in THIS reality! Whahoo! It's the Sliders (think Syfy, not beef) episode of Eat My Pagan Ass, season two.
Carmen & Lucky in the Transdimensional Portal
New theme song music from "Love Dog" by Big Bad Sun (Chris Juergensen), available on Magnatune.com: http://magnatune.com/artists/albums/juergenson-badsun/
We're so glad to be back, beeeyotches!
Big Bad Sun
by Big Bad Sun (Chris Juergensen) on Magnatune.com
Big Bad Sun by Big Bad Sun